Fall 2017 Presentations
We cordially invite you to join us for a series of imaginative travel talks on faraway places around our planet by world traveller Peter Langer in Fall 2017. Peter has just returned from a lengthy journey through Vietnam, Cambodia, Laos & Thailand in May and June 2017. Discover the natural beauty of Asia, the wealth of human history and explore a diversity of cultures. Experience the magic of these fascinating worlds through a beautiful photographic journey.
Ferry Building Gallery, West Vancouver
Impressions of Vietnam

Wednesday September 27, 2017 at 7:00 PM - Ferry Building Gallery, West Vancouver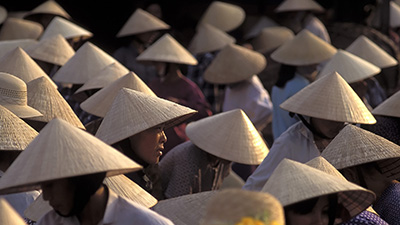 Vietnam features a sublime beauty of the country's landscapes: the Red River Delta in the north, the Mekong Delta in the south and almost the entire coastal strip are a patchwork of brilliant green rice paddies tended by farmers in conical hats.
We explore architecturally beautiful Hanoi and bustling Ho Chi Minh City, formerly knon as Saigon and revel in the sights of splendid Halong Bay and Tam Coc. Discover the UNESCO World Heritage Sites of ancient Hue and the enticing little town of Hoi An; stretches of white sandy beaches at Phan Thiet, Nha Trang and Danang. See a number cultural highlights, such as ancient Cham temple ruins, ethnic minorities in the hills, the extravagant church of Cao-Daism in Tay Ninh and the traditional Water Puppet Theatre of Northern Vietnam.
Presentation sponsored by Aurora Travel & XiamenAir.
Impressions of Cambodia

Wednesday October 4, 2017 at 7:00 PM - Ferry Building Gallery, West Vancouver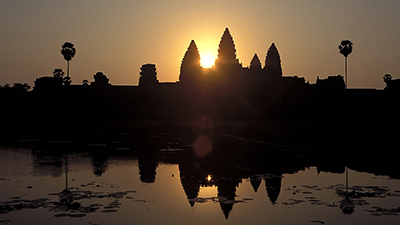 Cambodia was once the seat of the Khmer Empire, which ruled much of Indochina from the 9th to the 13th centuries, hence we explore Cambodia's 3 UNESCO World Heritage Sites: The great pre-Angkorian temple complex at Sambor Prei Kuk; Angkor, one of the most important archaeological sites in South-East Asia, featuring the famous Temple of Angkor Wat; the Bayon Temple at Angkor Thom; Ta Prohm, where trees grow out of the ruins; and the intricately carved shrines of Banteay Srei; as well as the mountaintop Temple of Preah Vihear.
We explore Siem Reap and Tonle Sap, Southeast Asia's largest freshwater lake in and home to numerous communities living in floating villages around the lake. We discover the Royal Palace, Silver Pagoda, Wat Phnom and bustliung markets in Cambodia's capital Phnom Penh and explore the country's second largest city, Battambang, and a fun ride on the quirky bamboo railway.
Presentation sponsored by Aurora Travel & XiamenAir.
Impressions of Laos

Wednesday October 11, 2017 at 7:00 PM - Ferry Building Gallery, West Vancouver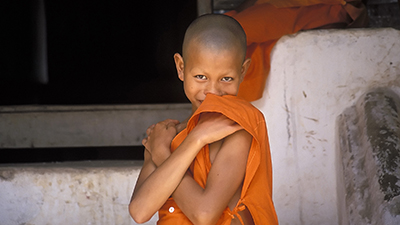 Long isolated from the rest of the world, Laos is surprisingly diverse in terms of its people. We explore Luang Prabang, a UNESCO World Heritage Site, featuring streets of ochre colonial houses and ancient Buddhist temples, lines of saffron-robed monks gliding through the morning mist and boats sailing down the Mekong river.
Discover the Xieng Khuang Plateau, one of the most heavily bombed places in the world, and a testimony to the rugged perseverance of the Phuan, Black Tai, Hmong and Khmu peoples who inhabit the province. Much of the bombing was directed at the strategic Plain of Jars, which takes its name from the fields of ancient, giant funerary urns. We explore Vientiane, Laos' capital and head to the Bolaven Plateau, just east of Pakse, with its rich agricultural bounty beautiful waterfalls and nearbyWat Phou, the most impressive Khmer ruins outside Cambodia and UNESCO World Heritage Site.
Presentation sponsored by Aurora Travel & XiamenAir.
Impressions of Indonesia

Wednesday October 18, 2017 at 7:00 PM - Ferry Building Gallery, West Vancouver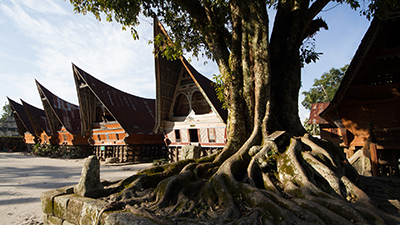 The Indonesian archipelago spreads over 5,200 km between the Asian mainland and Australia, all of it within the tropics, and comprises 17,000 islands. Its ethnic, cultural and linguistic diversity is correspondingly great – more than 500 languages and dialects are spoken by its 246 million people, whose fascinating customs and lifestyles are a major attraction. The largely volcanic nature of the islands has created tall cloud-swept mountains swathed in the green of rice terraces or rainforests, dropping to blindingly bright beaches and vivid blue seas, the backdrop for Southeast Asia's biggest wilderness areas and wildlife sanctuaries.
This show and lecture we will explore the islands of Sumatra, Java, Borneo, Flores, Komodo and Sulawesi. We conclude our show visiting the legendary Baliem Valley in the highlands of Western New Guinea. The fascinating island of Bali will be presented the folling week.
Impressions of Bali

Wednesday October 25, 2017 at 7:00 PM - Ferry Building Gallery, West Vancouver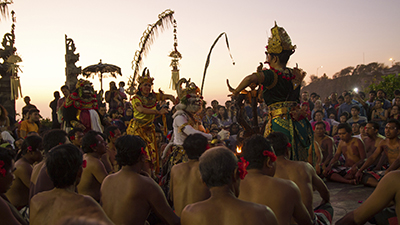 Bali has long been Indonesia's prime tourist destination with its original charm is still very much present. With its emerald-green rice terraces, beautiful beaches and exceptionally artistic culture, the small volcanic island of Bali is the only Hindu society in Southeast Asia. Having been to Bali in 1992, I have to say that in spite of the increase in tourism and traffic, the mountainous areas of the island have not lost any of its magical charm, which still makes Bali one of my favourite destinations anywhere. Add to this the sense of humour of the Balinese and the fact that you are surrounded by their beautiful artistic heritage and you feel that you are in heaven.
Ubud has a renowned multi-faceted art scene that developed after the arrival of Walter Spies, an ethnic German born in Russia who taught painting and music, and dabbled in dance. We will see images of a performance of a Kecak, a form of Balinese dance and music drama that developed in the 1930s.
Impressions of India

Wednesday November 1, 2017 at 7:00 PM - Ferry Building Gallery, West Vancouver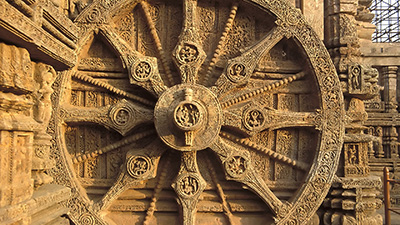 Home of one of the world's oldest civilizations, and several of the world's great religions, India has been changing and re-shaping itself for as long as anywhere on earth, forever producing new forms of culture and absorbing new influences. In a brand new multi-image presentation, you get to see spectacular carved temples and gleaming marble palaces, lonely Himalayan lamaseries and a number of India's 36 UNESCO World Heritage Sites.
The boundaries of modern India, fixed some sventy years ago, are merely the latest in a four-thousand-year sequence of redefinitions that have produced one of the most heterogeneous societies in the world. The land where the Buddha lived and preached, and where the Moghul Muslims erected the Taj Mahal, has recreated itself as both a majority Hindu nation and the world's largest secular democracy.

This show is brought to you by Bestway Tours & Safaris
Simon Fraser University, Vancouver
In the Footsteps of the Incas: A Virtual Tour of Peru, Bolivia & Ecuador

Saturdays, October 14 to November 25 (no class Nov 11)
10:30 AM - 12:20 PM
- Simon Fraser University Harbour Centre, Vancouver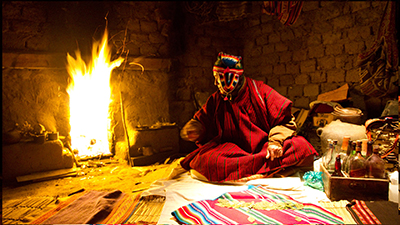 Join us for a virtual voyage of discovery focusing on Peru, Bolivia and Ecuador. We will learn about ways of life in the central Andes—the art and architecture, the long history and the magnificent cultural heritage inherited from past generations. We will discover the immense variety each country presents, from indigenous markets in the Sierras to marvels of nature in the Galapagos, from pre-Hispanic traditions to Catholic festivities.

Each week will include a multi-image presentation and a discussion of geography, history and the syncretic nature of religion in the Andes. You will gain a deeper understanding of the region's subtleties, especially valuable if you plan on travelling there.

For more information or to register, please visit: www.sfu.ca
From Indochina to Indonesia: A Virtual Tour of Southeast Asia

Thursdays, October 19 to November 30, 2017 10:30 AM to 12:20 PM - Simon Fraser University Harbour Centre, Vancouver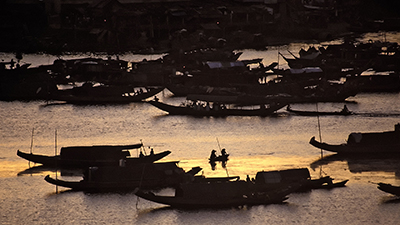 Bustling cities, UNESCO World Heritage sites, sublime natural beauty—Southeast Asia offers so much to explore. On our virtual tour you will discover Vietnam's patchwork of brilliant green rice paddies and elegant French colonial architecture; Cambodia's magnificent Khmer temples; the gilded temples of Laos; and the immense cultural and artistic variety of the Indonesian archipelago.

Each week we will view a multi-image presentation that evokes Southeast Asia's immense diversity, and we will discuss the region's geography, culture, history, religion, crafts and cuisine. The instructor, recently returned from Southeast Asia, will share sightseeing highlights, curious anecdotes and some of the secrets each place has to offer. Potential travellers to the region will gain a useful, deeper understanding of its subtleties.

For more information or to register, please visit: www.sfu.ca
If you would like be notified of future shows and events we encourage you to sign-up for our newsletter. We also invite you to share this with your friends: