Venues
Our presentations will be featured at the following venues:
Ferry Building Gallery, West Vancouver
The Ferry Building Gallery is a beautiful seaside venue which exhibits the artwork of both established and emerging North Shore artists. This beautifully restored heritage building has over 1000 visitors enter its door each week and is truly the centre for Arts and Culture in West Vancouver.
Ferry Building Gallery
1414 Argyle Avenue
West Vancouver, BC V7V 1C2
Telephone: 604-925-7290
Website: www.ferrybuildinggallery.com
Simon Fraser University, Vancouver
Most Continuing Studies courses take place at Harbour Centre (look for the observation deck at the top of the building), which is across the street from Waterfront Station, the main transit terminus for the SeaBus, SkyTrain, and West Coast Express..
Simon Fraser University at Harbour Centre  
515 West Hastings Street
Vancouver, BC V6B 5K3

Telephone: 778-782-8000

Website: www.sfu.ca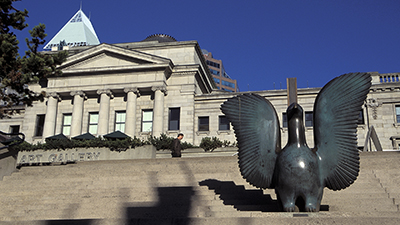 Vancouver Art Gallery, Vancouver

The Ultimate Traveller presentations take place during a concert series, called "Out For Lunch", offered on selected Friday afternoons at 12:10 PM and is free with Membership or paid Gallery admission. Arrive early as this popular event has limited space. The Granville SkyTrain station.
Vancouver Art Gallery
750 Hornby Street
Vancouver, BC V6Z 2H7

Telephone: 604-662-4719
Website: www.vanartgallery.bc.ca
Vancouver Public Library, Vancouver

The Ultimate Traveller presentations take place in the lower level rooms of the Central Library (Alma VanDusen or Peter Kaye). Local bus routes pass nearby and the Granville, Vancouver City Centre and Stadium-Chinatown SkyTrain stations are each within a few blocks of Library Square.
Vancouver Public Library
350 West Georgia Street
Vancouver, BC V6B 6B1

Telephone: 604-331-3603
Website: www.vpl.ca
For information on public transit to the venues, call Translink: 604-953-3333 or visit www.translink.ca